We use back office integration to help you to synchronise website data with your back office systems and reduce admin overheads.
We live in a digital age where technology is essential to most businesses, helping companies to run efficiently. Synchronising programs can save time and improve functionality. A great website is an effective lead generator and sales tool where important sales data is compiled. If you have a back office software such as a customer relationship manager (CRM) or an enterprise resource planner (ERP), you will want to fully integrate your site with it so that vital data can be transferred automatically, avoiding timely manual transfer.
With our back office integration solutions, we make your digital visions a reality and take companies to the next level. The functionality of your website can be greatly increased by linking your website with back office software such as CRM systems, ERP, stock management, accountancy, project management and email marketing systems together. Think what synchronising all of your business tools together would allow you to do.
We provide:
CRM Customisation – we are able to customise most CRM systems to your business needs, helping you to get the most out of them
Website Integration – all online forms can be integrated into your website avoiding time consuming data transfer
Bespoke Back Office Integration and Synchronisation – we can synchronise data transfer between your CRM, ERP, stock management, accountancy, email marketing and project management systems, improving efficiency and functionality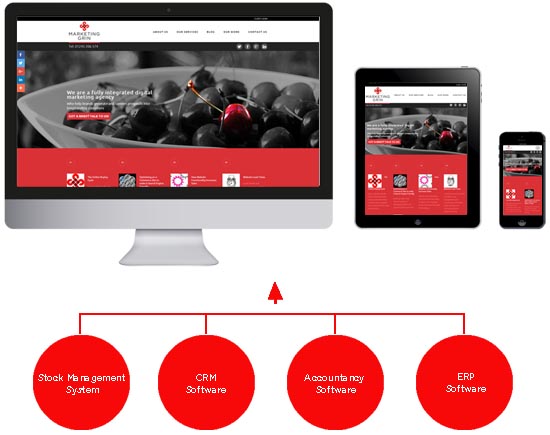 Why choose Marketing Grin for your Back Office Integration?
We have experience with most back office software including major customer relationship management software including Salesforce and Microsoft Dynamics along with most popular business tools. This combined with a proven and effective approach, with your business needs at the core of what we do, allows us to deliver cutting edge business solutions.
For more information on how we can help you, speak to one of our experts today.