We use e-Commerce web design and development to provide companies with online business solutions that attract, engage and generate sales. Our sites are high-performance, fully responsive working on all platforms and devices and are user friendly guiding visitors through a carefully planned buying cycle.
Online stores invariably lack content and have duplicate pages as well as other search engine optimisation issues unless they are set-up correctly. Our e-Commerce sites are audience lead and focus on your business needs. Before we begin planning, we complete a comprehensive discovery process where we scope out your website requirements. We sit down with you to understand your business, the buying cycle and your objectives, looking at who your audience is, where they hang out and the best way to attract qualified traffic to your site.
We look carefully at your system requirements. Our clients demand secure and fast sites that are built in a reliable and easy to use infrastructure. We will discuss and recommend the best platforms to use based on the project specification, budget and your administration, performance. We can integrate your site with just about any back office system such as your accountancy software, customer relationship management (CRM), stock management or enterprise resource planner (ERP) helping you to synchronise your data, reducing your administrative overheads and minimising data input mistakes.
Our enterprise e-Commerce sites are built in Microsoft ASP.Net, C# and MVC and run off a Microsoft SQL database. We can also provide clients who are working to a smaller budget with Magento and WordPress e-Commerce systems.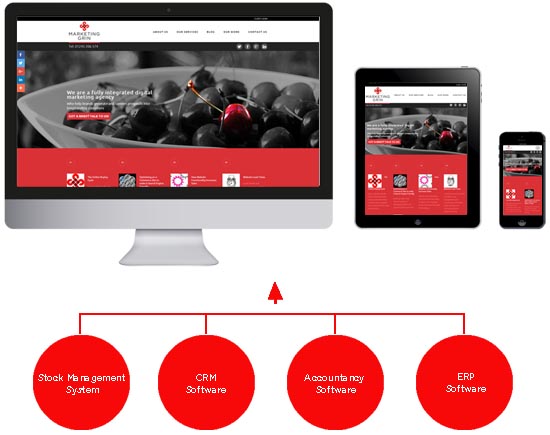 Why choose Marketing Grin for e-Commerce Web Design and Development?
We are effective because the audience and your business needs are at the centre of what we do. We don't just build pretty, user friendly e-Commerce sites, we build business solutions that attract, engage and generate sales. We apply a proven digital marketing strategy when scoping and designing sites where we map out the buying journey and set-up KPIs to track the user journey and measure the success of digital marketing campaigns. Being a small ecommerce web design agency in Essex, we offer a personal, tailored service that matches your requirements and achieves your business goals.
For more information on how we can help you, speak to one of our experts today.