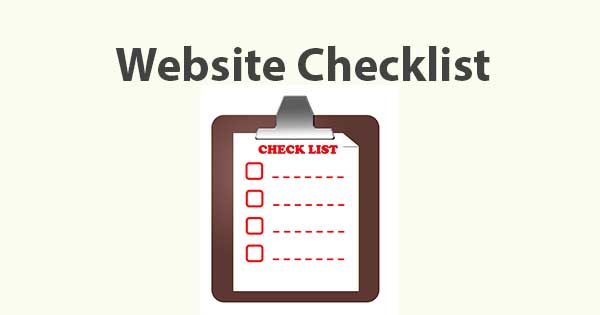 In this post I am going to take you through a useful website development checklist that will give you some ideas when building your site. It also gives you areas to consider when reviewing and improving it's performance, helping to get the most from it.
A good website forms the foundation of a great digital marketing campaign and done well can generate significant sales and sales leads. I talked in a previous post about creating an online buying cycle where you go beyond simply having a site with a good look and feel and start focusing on the online buying cycle as a whole – everything from how you are going to direct traffic to your site and the user journey once on the site, guiding users towards a micro or macro conversion. It also talks about setting up strategies to nurture prospects, converting sales leads into long-standing, loyal customers.
While this website development checklist isn't an exhaustive list, it covers all of the main areas to consider and will get you thinking beyond just the look and feel and will get you to start think about digital marketing as a whole so that you get the most out of your website.
Reach Strategies
It is important to understand how you are going to drive users to your site as this will affect the site's architecture. For example; when we have built websites for event venues, we have found that many venues have designed the site architecture around the rooms in their venue, listing each room and their capacities. While this shows off the venue well, it is more geared towards off-line marketing where sales leads have already been generated. It is not geared towards generating sales leads through digital marketing. Most people when looking for an event venue will search for the event type – 'wedding venues', 'conference venues' etc., and therefore the architecture of the website needs to incorporate this, whilst also showing off the venue at the same time. All quite obvious with a bit of thought but so often sites are designed with no consideration for how you are going to direct traffic to your site.
With a bit of research, you should be able to find out how people will search for your site and will be able to set up the site architecture appropriately.
User Journey
Once a prospect is on your site, you want to keep them engaged and guide them towards a conversion. The call to actions on your site will vary depending on your industry, website and where they are in the buying cycle but generally you want to have your primary call to action – a purchase if it is an e-Commerce site or perhaps a call back request if a lead generation site. For those that are not ready to action this, then you want a secondary call to action such as a blog subscription so that you can get the prospect to enter into the buying cycle. It is then over to your sales and marketing team to nurture the prospect and move them towards a sale.
Good UX
Keeping prospects engaged requires good UX (user experience). You want to effortlessly provide them with the information that they require which means a clear, simple design across platforms. Your site needs to be designed for your target demographic. If your demographic is technology savvy, it will have a different design to a site with a non-technology demographic. A truly user friendly site requires comprehensive testing before the site goes live.
Responsive Design
Your website will be viewed on a variety of platforms and therefore it is essential that you have a responsive design. Simply designing your site for desktop and laptop computers is not enough now. Mobile devices are becoming more popular and your website needs to work on all platforms and browsers. As users use their fingers to navigate around websites, the website will need adjusting to make it mobile friendly. If mobile usage is high, it may be worthwhile considering having a mobile app built.
Blog
Content marketing is an effective way of promoting your site and nurturing clients. A blog usually forms the centre of content marketing and they are becoming an essential part of a website. Have a read of my posts on creating a great blog to find out more.
Social
Social media plays a huge role in digital marketing and therefore it is sensible to have links to your social media pages and to include social sharing buttons to encourage users to share your content online, helping you to build links naturally.
Contact Information
We spoke about call to actions but it is also important to include your contact information. There is nothing more infuriating than trying to contact a company and struggling to find their contact details. Showing your contact details clearly also helps to build trust as it differentiates yourself from less reputable companies.
Cookie Notification
Now part of EU law, if you use cookies on your site, you need to notify the user. I wrote a post a few months ago detailing how you don't need to have those annoying cookie notification pop-ups to comply with the EU cookie laws.
Analytics & Conversion Tracking
In order to maximise the performance of your site, it is important to set-up a website analysis system. Google Analytics is a free website analysis system that allows you to track site visitors and their user journey. It won't automatically track conversions though and you will need to set-up goals and conversion tracking tags in Google Tag Manager. There are also lots of dashboard reporting systems that gives you a simple dashboard showing your site's performance.
Back Office Integration
By integrating back office software, you can synchronise data transfer between your CRM, ERP, stock management, accountancy, email marketing and project management systems which will help you to improve efficiency and functionality. Consider which back office applications you could integrate into your site to make your business more efficient.
Marketing Automation
Marketing automation encompasses a number of things from blogging through to building specialist landing pages and lots in-between. There are a number of companies that specialise in marketing automation such as HubSpot, Pardot and Marketo. These can all be integrated into your site or if these systems are beyond your marketing budget, low cost automations like an automated newsletter system can be set-up.
Security
The security of your website is often not considered until there is a security breach. There is a number of ways to improve the security of your site with a few simple steps. Have a look at my post on 10 ways to improve WordPress security. Most of these principles apply to all content management systems and not just WordPress.
Load Times
Website load times have an influence on both search rankings and conversion rates and therefore it is important to make sure your website performs well. Have a look at my post on website load times.
Promotion
A great website needs promoting to maximise it's performance. A good digital marketing agency will help you to direct targeted traffic to your site, increase engagement and increase sales and sales leads using a combination of digital marketing channels. If you are using a separate website development agency to build your site, it is a good idea to involve the digital marketing agency in the build too so you don't end up making lots of amendments at a later date, increasing development costs.
Happy marketing! If you have any questions, write a comment below and I will answer it as quickly as I can. For more free digital marketing advise, signup to our newsletter below.
SIGN UP TO OUR NEWSLETTER