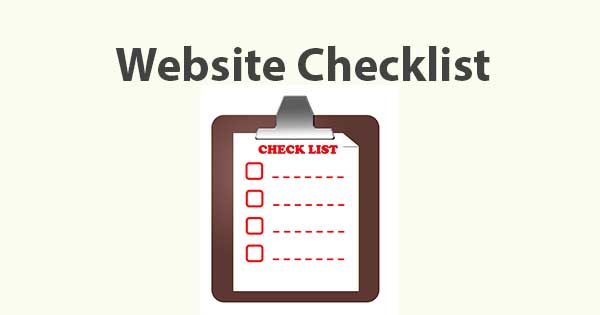 Thinking of setting up your own ecommerce store? This can be a great business venture as it is such a gigantic industry, plus it is an operation that you can quite easily run from the comfort of your own home. It is no surprise that so many new e-commerce stores selling all kinds of products are appearing each day, but how can you go about setting up your own store and find success in such a competitive marketplace? It can actually be relatively straightforward but there are a few key steps to take. Read on for an overview of setting up and running your own e-commerce store.

Product Range
The first step will be to decide what products you want to sell. This should be an item which is in-demand but also products which you have an interest in so that you can take pride in your work. As it is such a competitive marketplace, you need to ensure that your products are of the highest quality whether they are sourced from a supplier or if you make them yourself.
Website
Domain Name: Once you have identified what products you will sell, you can then select a relevant domain name – make sure that it is memorable and easy to spell.
Web Hosting: Next, you will need to find a suitable place to host your website with experts like bestwebhosting.co.uk being a good option for e-commerce websites due to the speed, reliability and free website builder.
Shopping Cart: You will also need to find shopping cart software so that your customers can easily and safely shop at your store.
Web Design: Much like a physical store, your e-commerce store needs to be attractive, easy-to-navigate, modern and kept up to date. It must include professional standard photographs, detailed product descriptions, customer reviews, and contact information. You can either use a Content Management System (CMS) or use the services of a web designer to design the site.
Payments: An e-commerce payments system will allow you to accept and handle payments through your store. You can use a payments processing company and/or open a merchant account with your bank.
Registering & Legislation
Registering: It is important to remember to register your business as either a sole trader, a limited company or partnership with HMRC prior to commencing your operation.
Legislation: There are a number of laws for the e-commerce industry in the UK which you need to familiarise yourself with before selling anything online.

Marketing
The final step will be advertising your e-commerce website. Internet marketing is a highly effective way to increase your visibility and boost awareness about your store while being active across social media can also work well for increasing awareness and accessing your target audience.
These are the main steps to take to set up your own e-commerce store. This can be a fun and rewarding industry to enter with the ability to run the store from your own home, but in order to succeed you will need to sell high-quality and in-demand products, provide an easy shopping experience for the consumer and take steps to make your store as visible as possible online.
The internet has made it possible for literally anybody to go into business for themselves. With demand for virtually any product or service in existence, savvy marketers and entrepreneurs have found ways to fulfil business niches and make a tidy profit. Ecommerce websites in particular have become popular with the B2B and B2C model, and make it very easy for individuals to find the best prices on any product or service. While the bureaucracy surrounding internet-based businesses is less so than brick and mortar establishments, there are still many areas where the same concerns apply. One of those areas is in the legal department. Below, we'll review why you should carefully consider retaining the services of a lawyer for your ecommerce website.
Accounting and Tax Woes
Even small online businesses have to keep track of their books. This is not only because you want to manage your revenues and expenses carefully, but also because of tax concerns and any potential legal issues with the government.
Business accountants can be procured for surprisingly reasonable rates if you have a small ecommerce website. You do not want to face an audit or other scary situation involving the government without having your finances in clear, organised order. As such, looking into professionals who provide these services – even if you are a small business – is absolutely recommended.
An accountant will advise you to keep your overheads down as this is an effective way to grow your small business fast.  Here's a good resource from Butlers that outlines other ways to save money for your business.
Fraudulent Activities
Most ecommerce websites and businesses operate on very slim margins. This means that a complaint or dispute can wreak havoc on your bottom line. If your website becomes large enough, then you will sooner or later be a victim of fraudulent purchases. In some cases, credit card thieves use stolen information to purchase products from you. In other cases, a customer orders a product and then claims that it never arrives. Both of these situations can lead to charge backs, losses and frustration for your small website. A lawyer versed in these areas can help you protect your business and ensure that these fraudulent events do not eat away bit-by-bit at your website's success.
Customer Complaints
While it may be rare if you're a small ecommerce website, there will inevitably be complaints from customers – some of them involving threats of legal action. This often arises due to lost packages, slow shipping times or discrepancies between product descriptions and actual products. A lawyer versed in commercial law can help you craft an airtight terms of service agreement that will protect you in any and all cases. This can also be translated into laymen's terms and referenced across multiple areas of your website, as a way to head off any potential complaints. If customers are aware of the terms and conditions prior to ordering, then they are much less likely to complain or otherwise feel aggrieved.
Having basic legal protection and clarification when operating any commercial business is highly recommended and absolutely essential. Between customer complaints, potential fraud and the need to cover your bases for tax purposes, retaining a commercial lawyer is just good business sense.
Ranking well in the search engines is absolutely vital for an online business and why optimising an e-commerce site is essential. If you are not at the top of the search engines for your keywords, you are missing out on vital sales. Ranking an e-commerce site though is easier said than done as often they have dynamic URLs, duplicate content issues and they are light on content.
Although the core principles of ranking any website are the same, certain websites lend themselves better to search marketing than others. A news site for example is rich in unique content, is updated daily with new stories and rarely has duplicate content issues as each story is different. Unfortunately though, the same cannot be said about ecommerce sites. Ecommerce sites by their very nature lack content as they are usually mostly image based and several products are often placed in more than one category leading to duplicate content issues.
What does this post cover?
In this post I will cover the 3 main points:
How to organise your site to avoid duplicate content issues
How to create landing pages
How to encourage unique and user generated content that will encourage conversions
Site Structure
Most of the problems with ranking ecommerce sites, such as duplicate content, can be resolved with a good site structure. Duplicate content is exactly how it sounds – content that appears in more the one place, e.g. on two different web pages. It is a problem because when there are multiple pieces of the same information, search engines find it difficult to decide which is more relevant to a given search query but it needs to choose one because delivering multiple search results with the same content is not very helpful to the user. The key issues with duplicate content are that search engines don't know whether to index the content and which page to rank for a given search query. They also don't know where to direct the search metrics (authority, link juice etc.). Do they give it all to one page or divide it up? The important thing with the site structure is to maintain organisation but also to make it searchable. This is done in 3 simple steps:
Categorise products
Create category pages with content giving an overview of the products
Makes search engine friendly URLS
It is no good building a good site structure if your URLs are not readable. A lot of ecommerce sites dynamically generate URLs causing unfriendly query strings like field1=value1&field1=value2&field1=value3… which cannot be read by the search engines. It is important to change these URLs to make them search friendly. Make sure you separate the words with a hyphen or an underscore to make them readable e.g. domainname.com/search-engine-friendly-url.
Category URL
A good category URL would be domainname.com/category-url
Product URL
The product URL very much depends on your site as to which approach to take. While it makes sense to have a URL like domainname.com/category-name/product-name, this is not always best as you are inviting duplicate content issues as products are often put into more than one category causing pages to have exactly the same content. While you can get around this with canonical tags (I will explain these later), this approach just invites duplicate content issues.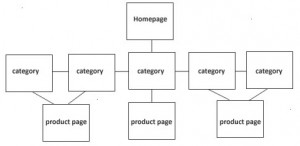 A better approach is to not include the category name in the product URL and instead have a URL like domainname.com/product-113944. Notice the number next to the product name. It is important to add a unique product number next to the product name to protect against similar product names.
Canonical Tags
If you end up with duplicate content on your site for whatever reason, you can notify the search engine of the orginal page and avoid any possible duplicate content issues by adding canonical tags to both pages. You do this simply by adding the following code before the closing head tag, referencing the original page:
<link rel="canonical" href="http://www.yourdomain.com/correct-page" />
Product Description
Product descriptions are one of the few opportunities you have to add content to your site. Make sure that you take time to write your own, unique product descriptions. If you pinch product descriptions from the manufacturers, not only would the product descriptions be the same as the manufacturer, it will be the same as all of the other websites that pinch manufacturers' product descriptions. By pinching product descriptions, you are missing an opportunity to add unique content.
Meta Tags
Meta tags are an important element in onsite SEO and are a great opportunity to optimise your site.
Meta Title
Meta titles are one of the most important aspects when it comes to onsite SEO. It is important though that these are unique for every page. Doing this across thousands of pages is impossible if you have to do it manually. It is therefore a good idea to set up auto-generated meta titles that include the product name and a simple call to action.
Meta Description
Meta descriptions don't actually have any bearing on rankings but they do have a big influence on click through rates. Like meta titles, it's important to make sure your descriptions tag are unique for each page. Again, setup auto-generated meta description based on the product name and category.
H Tags
It is best practise to use H tags in all websites. These are header tags and automatically make text larger, for example the page title is normally H1, headings H2 etc. For ease, it's a good idea to configure your CMS system to automatically configure your product name as the H1 tag for that page. This helps with search marketing as your target keywords will be in the title and as the text stands out, it is deemed more important.
Customer reviews
Customer reviews really are a must for ecommerce sites. One of the biggest difficulties when it comes to ranking an ecommerce site is the lack of unique content and customer reviews are a great way of producing unique content. Customer reviews are also a great way of getting feedback about your products which is vital information for your business.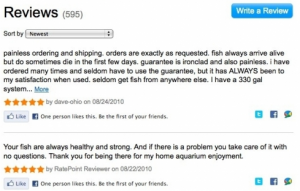 Often getting reviews from customers is easier said than done. Some great tips to encourage reviews are:
Setting up auto-generated emails to be sent out a couple of weeks after purchases asking for a review with a nice hyper-link leading them to the review section
Offer incentives like discounts for those that write a review which again can easily be automated
You can also customise your review system so that it only displays when there are reviews to show avoiding ugly "there are no reviews on this product yet" messages
Reviews are also great at making your ad stand out in the search engine result page (SERPs) which will help with click through rates (CTR). To do this though you need to make sure you are marking up the reviews with rich snippet microdata.
Q&A Content
As mentioned before, ecommerce sites are invariably light on unique content so any opportunity to generate content should be taken. Integrating a question and answer feature for products does just this and it will help to improve engagement and conversions. Product Q & As are also good for long tail searches as they are bound to cover additional terms that otherwise are not covered.
Breadcrumbs
Breadcrumbs help to improve the user experience but they are also a great way of building internal links. A must for ecommerce sites!

Image Search
Most people forget that there are multiple ways of searching. While contextual search is the most popular, image search is often used too. As ecommerce sites are predominantly image based, why not make use of this and optimise your images to encourage image search as well?
You optimise images by:
Using descriptive file names like ecommerce-image.png
Adding alternate text tags to the html code that describes the image and include your keywords (you can set this up to be the same as your product name)
Submitting image sitemap to Google and Bing
Local Search
Including company details such as the company address and contact telephone number not only improves your trust signals and encourages conversions, it helps to improve your local search ranking.
Optimising an e-Commerce Site Summary
Great onsite SEO, especially with e-commerce sites, is about careful planning and a good approach. Certain website platforms make it easier to optimise your site than others and some are straightforward to amends, others are and this should be discussed during the discovery and website scoping process. While you may expect e-commerce web development companies to incorporate these adjustments as standard, most web development companies focus on making sites user friendly and looking great. They tend not to be digital marketers.
If you have any questions about making your ecommerce site search engine friendly, write a comment below and i will answer it as quickly as I can. For those that are looking to adjust or renew their e-commerce site, talk to us today and see how we can help.
For more digital marketing advice, subscribe to our newsletter!
We are a digital marketing agency in Essex and use a blend of digital channels to help brands reach their target audience, increase visibility and drive qualified traffic to their site. When on the site, we use a carefully planned user journey to guide visitors through the buying cycle and help convert prospects into long-standing customers.
Using a blend of digital marketing disciplines to reach prospects, spread your message, increase brand awareness and direct qualified visitors to your site.  We get visitors to act by downloading resources or marketing material, and interact with your posts by commenting or sharing them online. We help users convert through carefully planned micro or macro conversions and keep them engaged and in the sales pipeline so that your customers remain happy, long-term customers, achieving your business needs.
Our digital marketing services
We start with a careful discovery process where we learn about your buying cycle and how your audience finds, consumes and buys content, products and services and with this information we put together a carefully planned digital strategy with clearly defined KPIs.
We use a combination of top level and lower level reporting software to give an overview of progress and to drill down and analyse what is happening and why, understanding market trends.
We use a combination of paid media platforms including paid search social advertising, display and remarketing to promote content and drive qualified traffic to your site.
We use content marketing to generate targeted traffic, better engagement, improved reach, brand authority and increased sales.
We use a combination of search engine optimisation (SEO) and paid search advertising (PPC) to put together integrated search strategies that increase reach and drive qualified traffic to your site
We use social platforms to increase visibility, promote content, interact with prospects and customers, build authority and to bring positive sentiment to your brand.
We build fully responsive websites for B2B and B2C businesses that are audience focused and guide users through the buying cycle both on e-Commerce and lead generation sites, helping companies achieve their marketing objectives and business needs with clearly defined KPIs to measure engagement, interaction and micro and macro conversions.